5 Most Effective & Successful Google Display Banner Sizes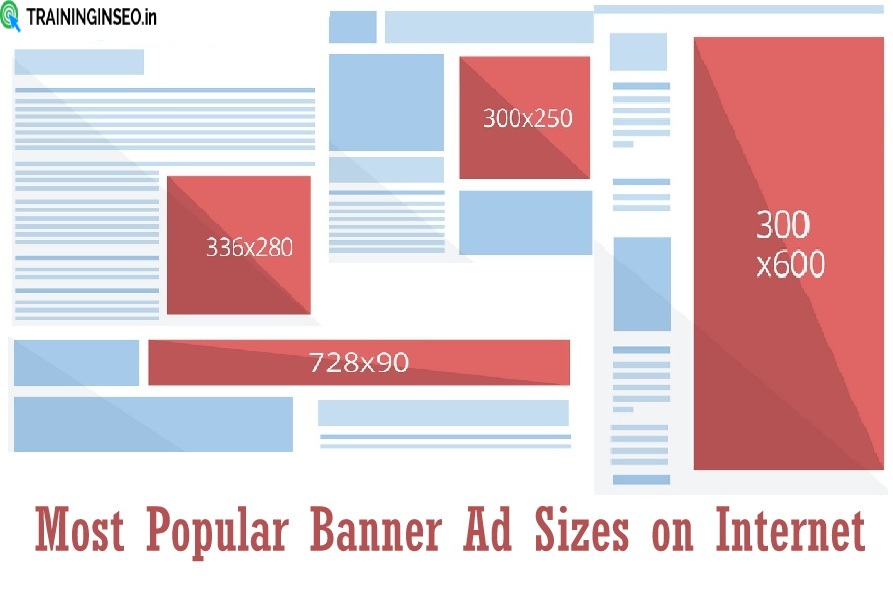 We all know that Google allows us to advertise on our website, blogs, search engines and other websites in the format of text, videos, flash, and gif. Among all these things, the image ads always grab the maximum attention.
As a digital marketer, if you are targeting image displays on Google then you should be aware that the display banners will provide the maximum benefit and you need to know which display banners are helpful for your digital marketing campaign. This article aims to provide the reader with some insights into the 5 most effective Google display banners. The banners that we will discuss here are getting the most attention as well as good Clicks through rate (CTR). the smart marketers should focus on these sizes only. Enroll yourself in the best SEO course in Ahmedabad to learn more about these digital display banners.
Google allows the banner ads in 23 sizes but out of them, only 5 banners are performing well on the internet.
The 5 Most Effective Google Display Banners
Medium Rectangle – 300*250
The Medium rectangle is the best size which is getting a high ad impression in display advertisement. Most of the marketers believe that this ad is getting them more traffic and impression for their digital marketing campaign. This Medium rectangle banner appears on the right top of the website and the right side always have the maximum attention from the viewers.
Large Rectangle – 336*280
The second place goes to the large rectangle as far as ad impression share is concerned. These ads appear at the bottom of the sidebar and it performs better when it comes with the article content at the bottom.
Leaderboard – 728*90
The Leader board appears on the top of the page near the header section of the content area. This ad grabs most of the attention as people see this as the first thing when the website gets loaded on their system. The Leaderboard holds the third place in the display banner sizes.
Half Page – 300*600
The Half page ad size is one of the fastest growing sizes amongst the digital banners. This is also the largest size of the banner where one can place text, images, call to action buttons and so on at a place convenient to the visitors. In the digital display network, this banner has held the fourth place.
Large Mobile Banner – 320*100
The Large mobile banner size has held the fifth position and we can see this ad at the bottom of the page. The height of the banner is double the size of our normal mobile leaderboard. This size is perfect if we are targeting our mobile users.
These are the most effective digital banners and when one can use them, there is no point in wasting time in other sizes.
Categories :
SEO Training
,
Tags:
banner ads size idea
,
effective digital banners
,
Google display banners size tips
,
SEO Course
Request free Demo Lecture
Our Services
Latest Blog
15 Feb

Needless to say that digital marketing is the fastest growing industry in today's world. Whether ...

Read More

8 Feb

Pratik is one of the talented students @Digital Marketing Training Institute; He joined a web develo...

Read More

28 Jan

If you search for some good digital marketing courses in Ghaziabad, you will find plenty of them on...

Read More